Procedural deadlines
In France
In France, the entire procedure between filing and registration of the trademark takes about 6 months. However, the registration of the trademark always reacts to the day of filing, so the trademark is protected from that day on.
From the day of filing, the trademark is published within 3 to 6 weeks (the deadlines vary according to the workload of the INPI).
The opposition period begins with the publication of the trademark, which serves to inform third parties of your application: it allows the owners of earlier trademarks to oppose, before the INPI, to the registration of your trademarkbecause it is identical or too close to theirs, in the same or a related industry. See our fact sheet on opposition. If an opposition is filed, the procedure can be extended by a good 6 months, or even longer if the procedure is suspended by mutual agreement of the parties, in order to allow time for negotiations. If, on the contrary, no opposition is filed, then the registration of the trademark will continue normally.
Approximately 6 months after filing, if there is no opposition, the INPI issues the certificate of registration of the trademark, and sends it to the owner or his Industrial Property Counsel, who will forward it to him.
In the European Union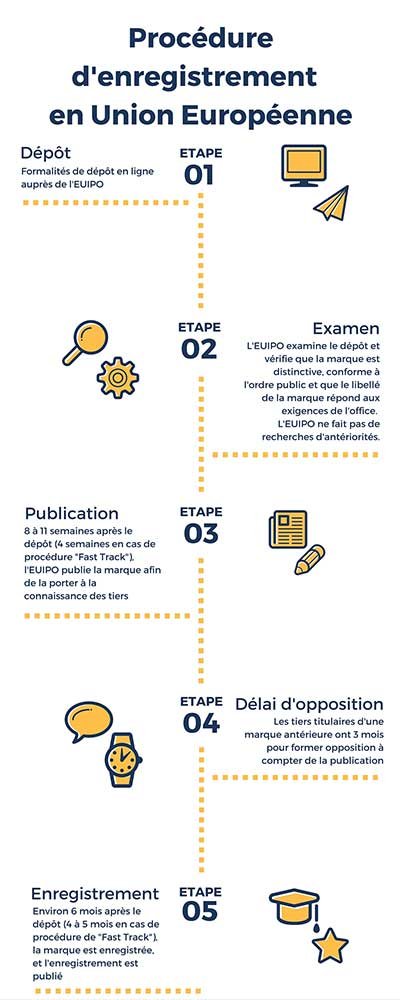 In Europe, the development of the registration process is the same as in France. However, the deadlines change slightly.
The publication of a European filing is normally made within 8 to 11 weeks after filing. This time limit can be halved thanks to a fast-track procedure called "Fast Track". This procedure can only be used if the goods and services referred to in the mark have been chosen from a list proposed by the Office. If, on the contrary, as is often preferable, the wording is "tailor-made", then the classical procedure is to be preferred.
The opposition period is longer than in France, since it lasts 3 months. Moreover, when an opposition is filed, the office grants the parties a so-called "cooling off" period, which is in fact a time that allows the parties to negotiate an amicable agreement. It is possible to extend this "cooling off" period for a further 22 months. A European opposition can therefore be very long!
Once the opposition period has passed, the mark will be registered. EUIPO takes a total of 4 to 6 months to register a European trade mark, depending on the procedure used and if it is not disrupted along the way.